Structure vernaculaire individuelle ou collective, fixe ou nomade, pensée avec des matériaux locaux ; souvent de récupération, et des systèmes de fixation nécessitant peu de moyens et directement extraite du savoir-faire et des gestes des Pêcheurs de la Côte de Coromandel.
Kadalammaa House
This is a vernacular, individual or collective structure made of local building materials,often salvaged materials. Besides the fastening systems can be easily made thanks to the Coromandel Coast fishermen's know-how. The idea began to form in our mind after meeting those people living in a remote village settled on a ruined factory in the northern part of Puducherry in South India.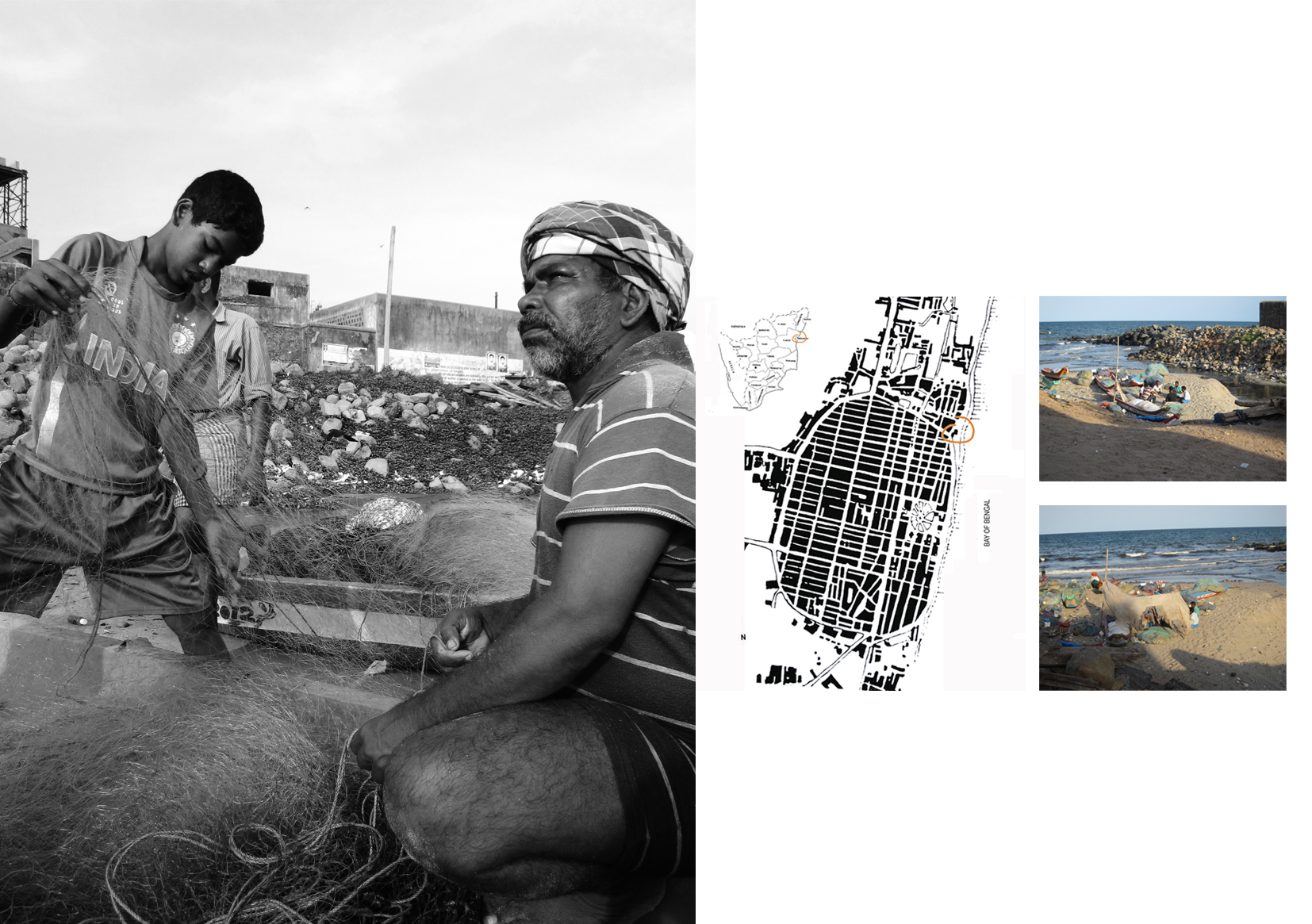 As he was sitting under a tree, in the middle of the road, one of the fishermen whose hands could have been caught in the meshes of his net said to me : 'Do whatever you want over there but save our homes. If you can do so, make us more comfortable but let us keep our land.'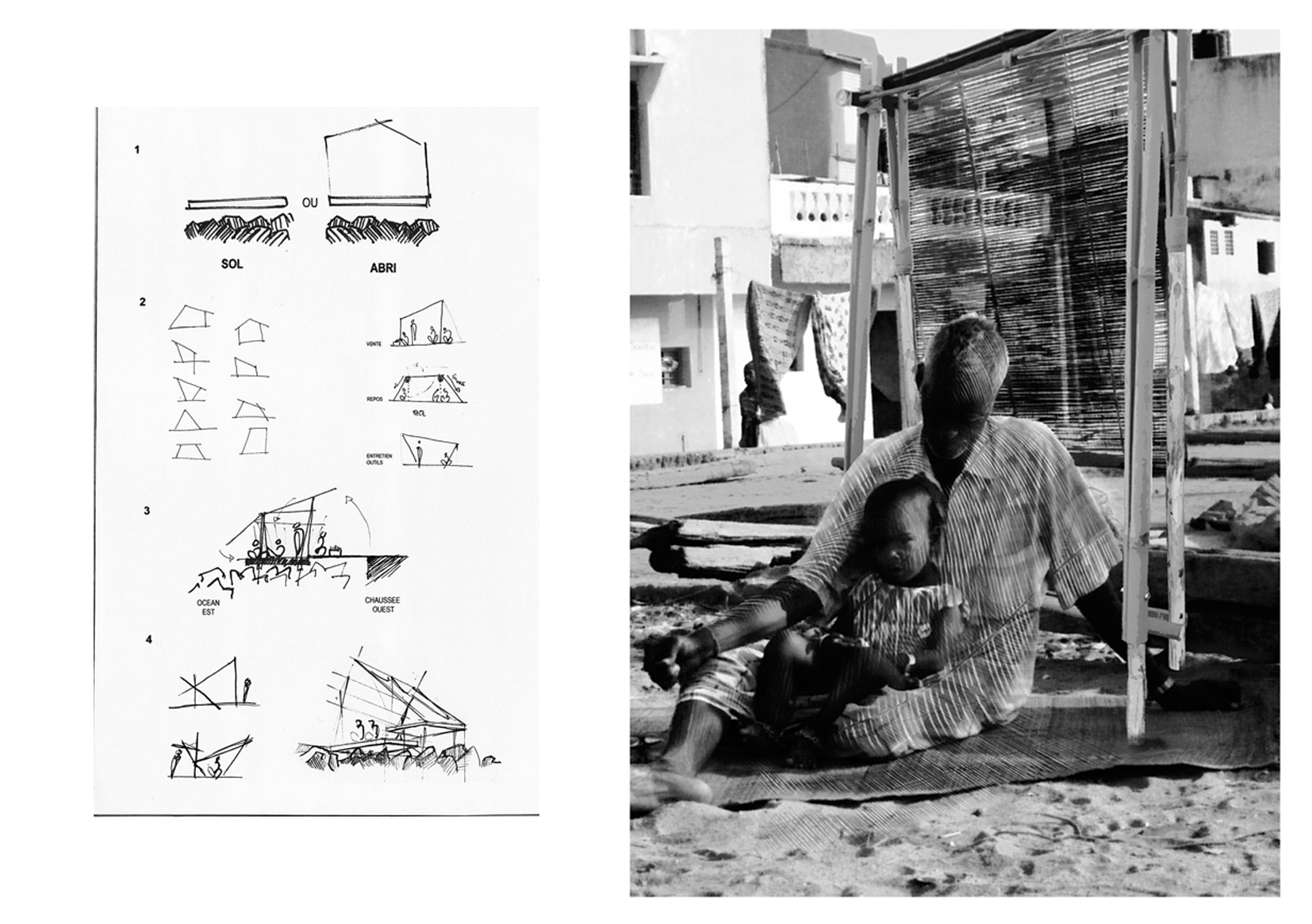 The mooring of the fishing boats, the preparation, the unloading, the sorting, the selling of the fish, the making and the upkeep of the nets as well as some fishing techniques make that place and its beach their full working area. Some problems of coastal and beach erosion, the end of their social programme in a murky politico-cultural context can account for the destruction of their space and of their way of life, making exchanges, cultural links between villages and a several thousand years old expertise more fragile.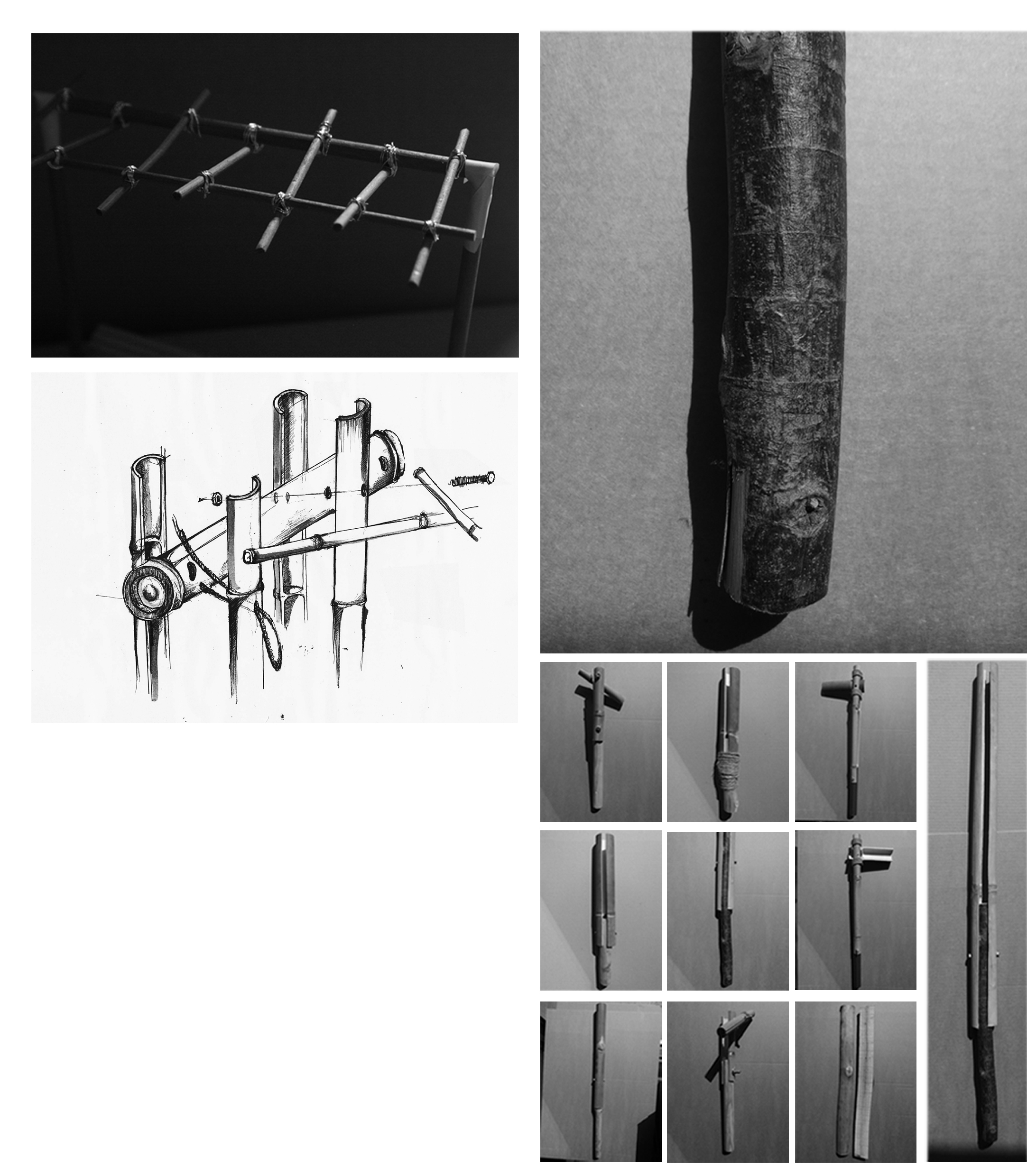 The area gets narrower everyday though a part of it still exists near the small beach. Actually that place is unexploitable because of its almost continuous exposure to the sun. So the fishermen moved from the beach to the city pavements to work, going to any place where they could find shade.That migration was not convenient at all as they had to take their nets, their materials and some water away with them.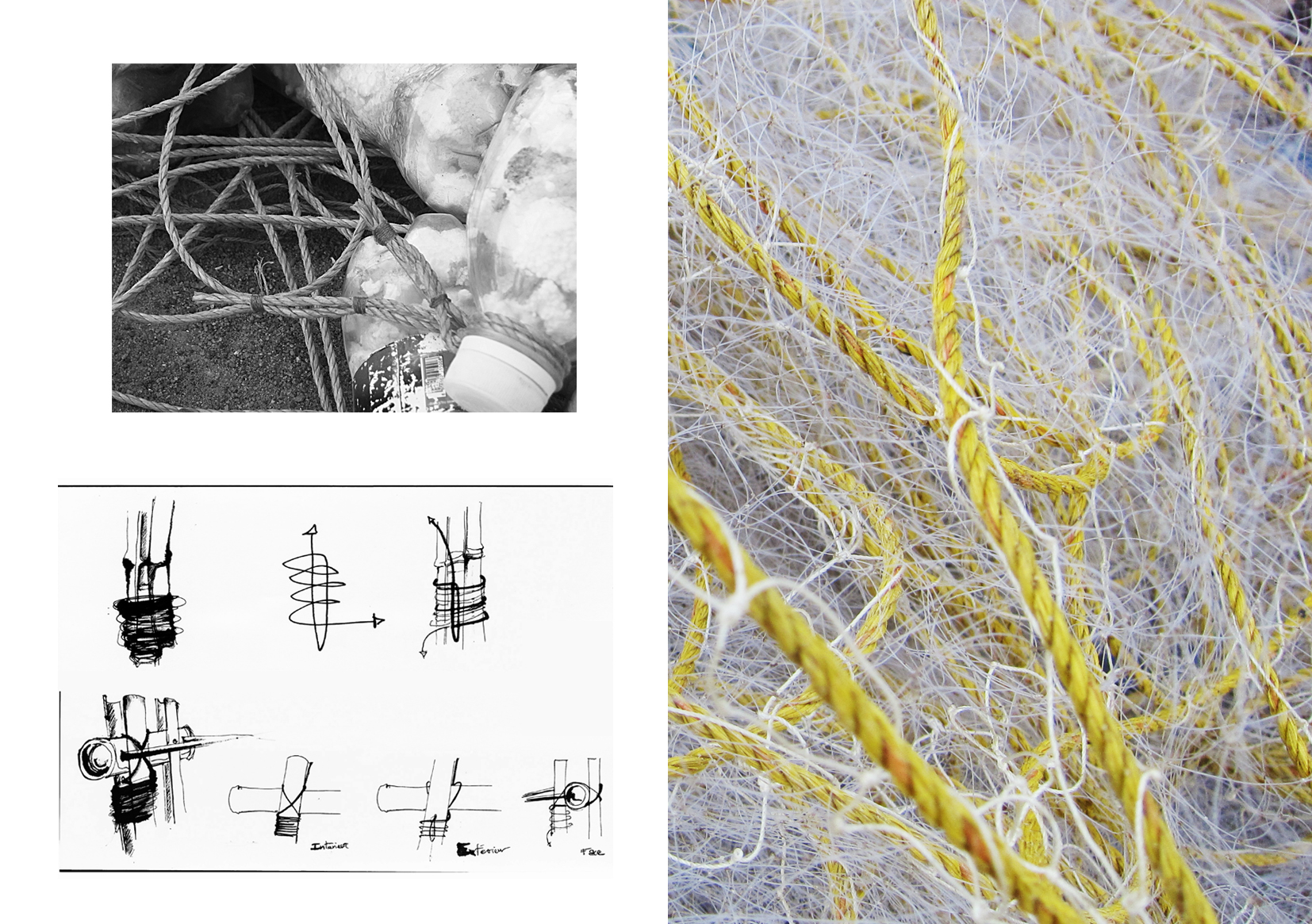 We had first planned to protect the fishermen from the sun in their area next to their fish boats and their homes. That's why we created a personal, movable, adjustable, adaptable shade which could be reproduced. It was more an approach than a project though it was not a solution against the environmental problems along the coast, not even a total and sustainable answer to their local needs. Indeed, they do not only have a precarious daily life but  also a right to their land based on birth which is politically and legally precarious too.
It was a symbolical and formal offer that meant to be as much adaptable as possible to a difficult full piece of work and its various fields of activity. The fishermen realised they needed and felt like more comfort but they couldn't imagine it nor tell anyone about it regarding the  social background.
The Parava caste is well organised and has always been evolving in a village culture in which the sense of legacy and belonging to a work and to the sea world are still vivid.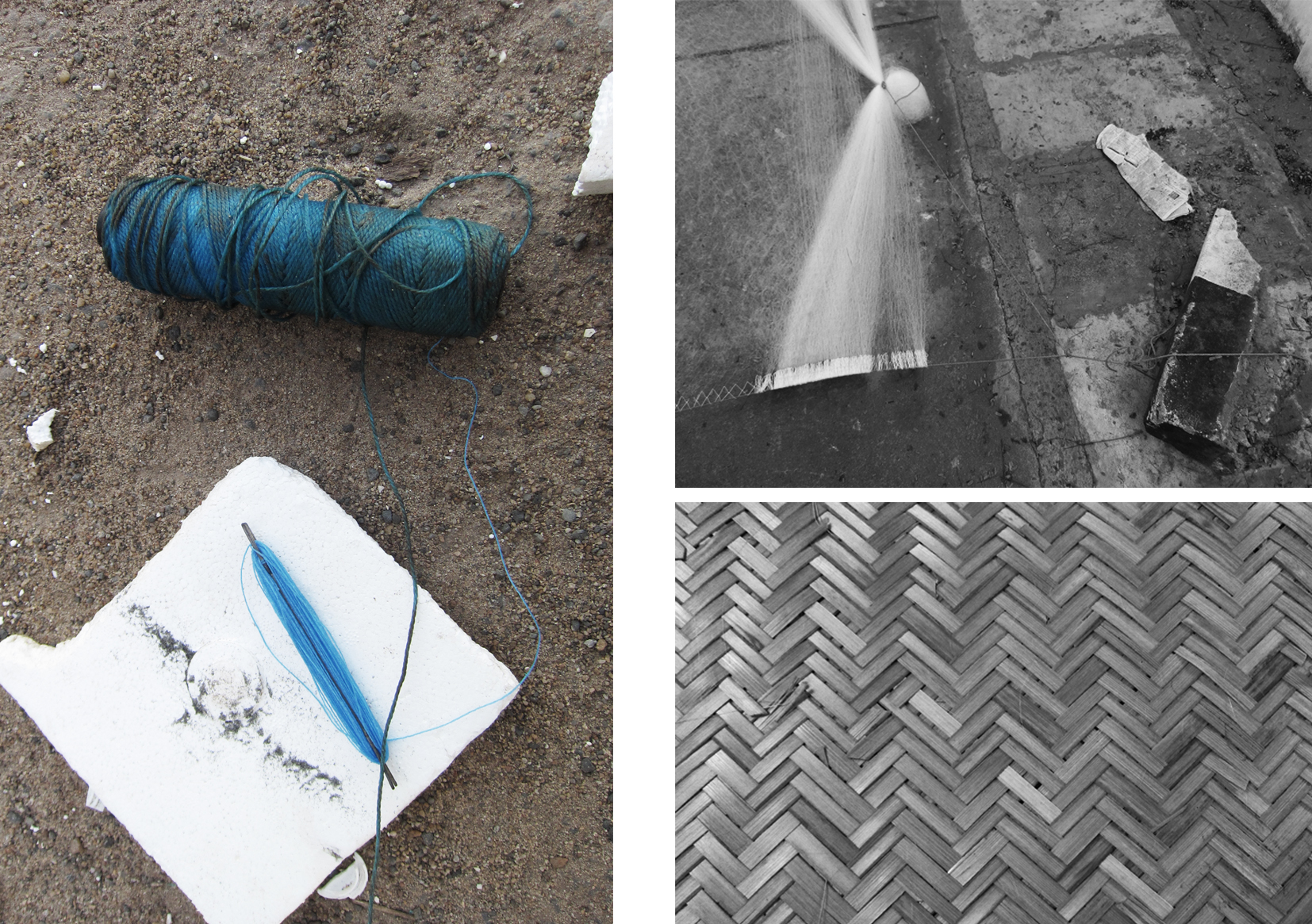 All rights reserved © atelierPAMPA 2017