Mise en scène d'une scène de vie / Daily life staging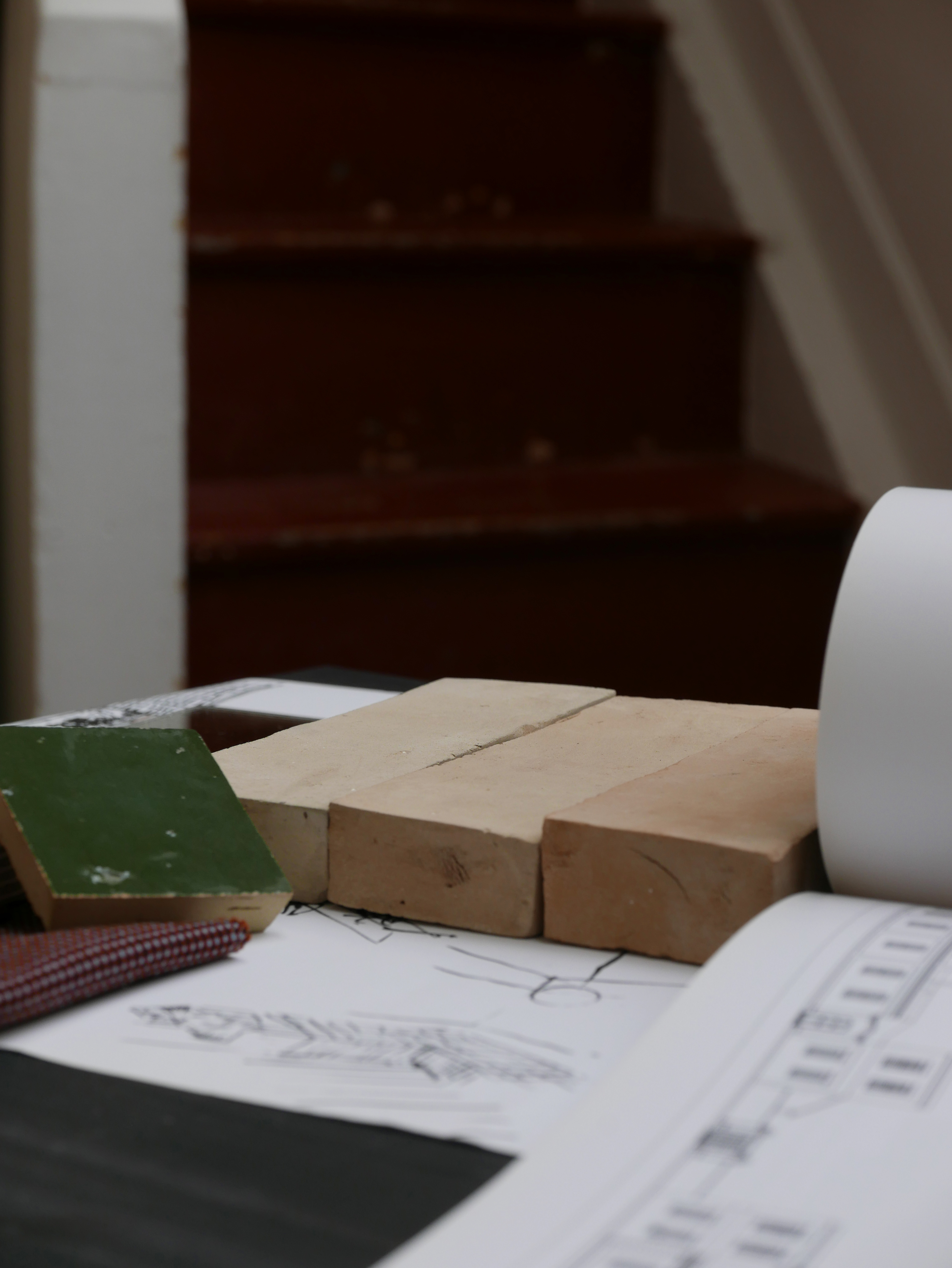 « […], les gens que la forte chaleur de l'après-midi avait refoulés à l'intérieur des maisons sortaient peu à peu de leurs tanières d'ombre pour profiter de la fraîcheur.
Les terrasses de cafés se remplissaient d'Européens qui s'étiraient paresseusement, fermaient les yeux avec un gémissement de béatitude pour mieux sentir le petit air tonifiant que la fin du jour distillait sur la ville.
Très vite, la douce musique des glaçons tintant au fond des verres achevait d'eliminer le contrecoup de la sieste. De fortes odeurs de légumes et de fruits sûrs descendaient du marché couvert pour venir se confondre avec celles du crottin d'âne et du jasmin ; le vieux camion-citerne passait au ralenti sur l'asphalte brûlant, avec son bruit de ferraille et ses gerbes d'eau latérales sous lesquelles des enfants demi-nus se douchaient en piaillant. »
[…]
« Sans qu'on lui eût rien demandé, un des garçons déposa sur le marbre une théorie de petits verres à pied, une bouteille d'anisette, et trois ou quatre assiettes de kémia, remplies d'olives noires, de cacahuètes salées et de piments doux baignant dans l'huile. L'eau glacée produisit dans les verres la glauque opalescence de l'absinthe, et tous les hommes trinquèrent avec solennité.
Pelegono extirpa de son porte-monnaie l'enjeu de la partie […] Del Baño fit de même et la joute commença. »
A scenically design of a scene of life from a extract of of the novel Dans l'épaisseur de la chair (pg.200-203) of JEAN-MARIE BLAS DE ROBLES, éd. Zulma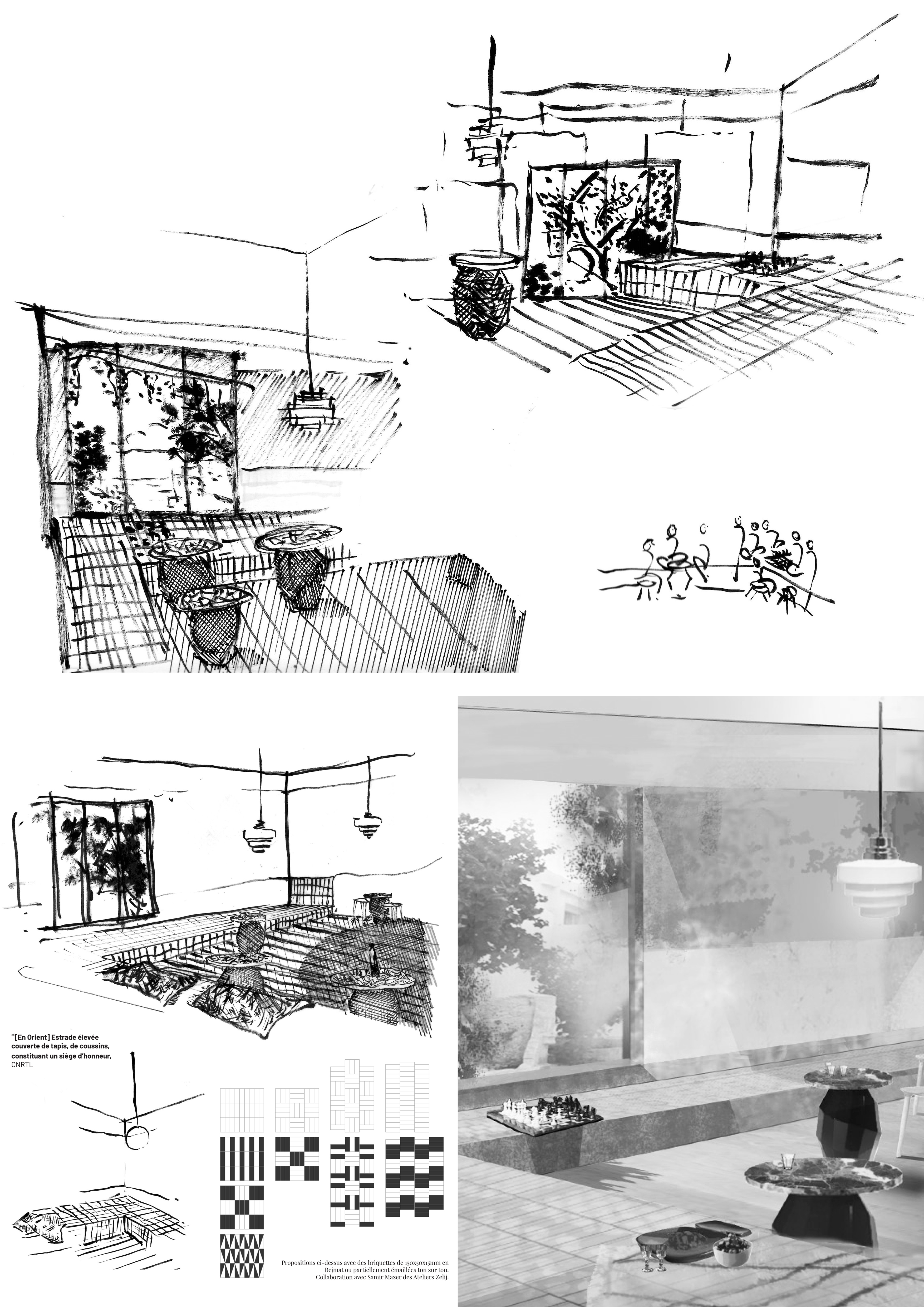 This project is a room for living between two periods, two moments of the day, two cultures, two forms of usage and customs, from one shore to the other, between two lands.
From Marseille to Alger, it is a room in the middle of others.
In the room the atmosphere spread out thanks to the pattern of the ground and the bench. The geometrical layout builds a connection between the two raw materials of the terracotta tiles and the wooden floor.
Between two conversations at the doorstep, torn between two positions, this room is an evocation of the dry livingroom of the hamman and the orientalists reminiscences. This room is the soothing shade of a café terraces, a safe and freshness haven after a burning afternoon.
It is symbol of a moment in life– the moment of a conversation and gossip between neighbours- this humble social game of pleasure, exchanges and debates at the time of the "aperitif ". This moment where the soft music of the ice cubes helps to eliminate the backlash of the nap.
The Kamia in Alger or Tunis, the aperetivo or tapas time in Italy or Spain or simply our anisette in the South of France. It is a fragrance of time, a short pleasure as a game of chess or cards, between two Mediterranean hours…
A scenically design of a scene of life…
The chess game is played on a colourful wooden carpet made of scrapped wood, with a colour gradient density.
A crossfade and rastered floor which turns into a game board at a bench height.
A warm and comforting blend of elsewhere and resilient travel where oriental rug and textile meet and intersect with terracotta and zellige, like arabs palaces and romans residences.
A textured living room, hypnotic and harmonious, representing a single medium, between learned and common culture, between preciousness and recovery, between raw material and erudite implementation…
Two floors that are superimposed, two levels that are tiled and woven in an erudite geometry.
One where we walk, the other where we put something and where we land.
All rights reserved © atelierPAMPA 2018