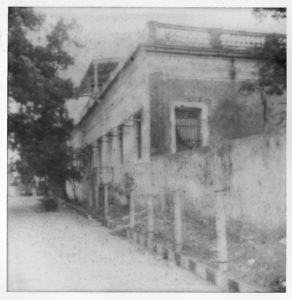 L'ATELIER / THE WORKSHOP
Atelier PAMPA started life as a multidisciplinary duo, combining the perspectives and expertise of an interior designer and a historian of art and architecture.
The workshop gets involved at all scales, without any restrictions on the programmes, and we put the question of the meaning at the heart of a narrative approach.
Since its foundation and with both its creators' proven experience, PAMPA has fulfilled private orders and has replied to private and public calls.
The studio intervenes on the scale of the urban space and builds prospective hypotheses. In that respect when needed, the studio adapts to the orders with agility and brings and federates multidisciplinary and collaborative teams together and lead them.
From the program to the architectural details, atelier PAMPA only aim is to give birth to cultivated projects the founding principles of which are the meaning. The agency is able to materialize and give tangible form to usual stories and scenarii and put them in spaces in a particular atmosphere.
PAMPA is both a studio and an OBSERVATORY with a theoretically position thanks to its connections with Higher Education and Research. Through its, the decoration extent has become a true meaning subject, and is experiments and invents to take on a new form as often as possible.
Atelier Pampa is also skilful at expertising the existing built environment, from "the genius" of the place to the notion of heritage, and bring it within the studio's creative process. Our design method does perceive its projects from their scheduling to the historical and heritage diagnosis.
This production of content is the heart of atelier PAMPA.
A design studio between France and India, PAMPA is a window, a workshop where minds and hands come together for tailor-made thinking.
---

Philippine APRILE MANDILLON
ARCHITECTE D'INTERIEUR-DESIGNER / INTERIOR ARCHITECT-DESIGNER

Philippine Aprile Mandillon graduated with honours as an interior architect and designer from the École Camondo in 2013.

She first touched on the socially-driven preservation of cultural, tangible and intangible in Tamil Nadu in 2009, while working for the Indian National Trust for Art and Cultural Heritage. From 2010 to 2013, her various experiences and exchange programmes abroad, in such cities and neighbourhoods as Queens in NYC or Puducherry, or with the Politecnico di Milano, led her to question non-places and capable spaces*, thus enhancing her conceptualization of spaces with a holistic view of contexts.

She was already very inspired by the architectural scale arising from existing structures but it then became obvious to her that thinking and designing an interior architecture project can only be done with a proper understanding of these entangled scales, existing units and uses. Following several collaborations and assignments in southern India, she developed a method based on the understanding of these contexts by creating her own tools, among which MATRIMOINE, opting for an open, collaborative and cross-disciplinary approach. Since 2013, Philippine Aprile Mandillon has worked for a variety of companies, interior architecture studios and architecture studios including MESSIKA, LUXSENSE, MARIE COLINE FILMS and PCA-STREAM, where she directed or collaborated on projects involving private, cultural, office and retail spaces.

In 2017, she founded studio PAMPA with Alexis Markovics. The studio very naturally develops projects, from the question of uses and programming to site supervision, in collaboration with architects, urban planners, designers, scenographers, plastic artists and film directors, as well as anthropologists and cognitive scientists.
---

Alexis MARKOVICS
DOCTEUR EN HISTOIRE DE L'ARCHITECTURE MODERNE ET CONTEMPORAINE / DOCTOR IN MODERN & CONTEMPORARY ARCHITECTURE HISTORY
Alexis Markovics holds a research degree from the École du Louvre. A historian of art and architecture, he has conducted research on the built environment of Paris and the Greater Paris.

He is also a researcher at the laboratory of the architectural school ENSA-Versailles and has served as a heritage consultant for the Department for History of Architecture and Archaeology of Paris within the Commission du Vieux Paris.

He has conducted several historical/heritage assessments, among which that of the Saint-Louis crystal works for Hermès in 2012, which he carried out with Dominique Averland. He is currently researching the history of the profession and of the training of decorative artists, interior decorators and interior architects.

Alexis Markovics is also the academic director of the École Camondo (a part of the Museum of Decorative Arts) since 2010, where he teaches the basic tenets of the history of architecture, interior architecture and design and supervises dissertations focused on the theoretical approach to space and its design. In 2012, he founded the research seminar Ambiances pour habiter. A graduate in museology, his interest in museography stems from his teaching practice.

In 2017, he founded PAMPA with Philippine Aprile Mandillon as a design studio that places meaning, contexts and culture at the heart of projects.
---

Andrew BERGMANS
ARCHITECTE / ARCHITECT
Senior Architect based in Bengaluru, Andrew Bergmans has worked in India for agencies like Sublime Art & Architecture.

He received his diploma in civil engineering in 2006. In 2011, he completed his under graduation in architecture from Anna University, Chennai. He completed his internship with INTACH (Indian National Trust for Art and Cultural Heritage). His association with Philippine Aprile Mandillon started at INTACH in 2009, both of them were interns there. He has documented and worked on heritage buildings such as the Mairie Building, and The Swadeshi Mill factory in Puducherry. These buildings have been an integral part throughout the colonial history of Puducherry.

He has exhibited his own photo documentary at the 5th International Field School on Asian Heritage.

As collaborator, Andrew Bergmans is working with atelier PAMPA for all architectural projects between France and South India.


Council of Architecture Reg N°CA/2015/71881